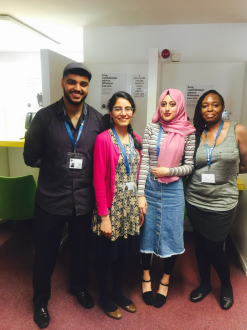 Volunteer opportunities
We are currently recruiting for the following volunteer roles:
Trustees
Citizens Advice Birmingham is a local charity dedicated to serving the people of Birmingham by providing them with advice and information on a wide range of subjects. We are looking to recruit three people to join our trustee board.
Trustee Recruitment Pack - please click here
Trustee Application Form - please click here
Trustee Flyer - please click here
Adviser at our Saltley office
Telephone Assessor at our City Centre Office
Receptionist/administrator at our Saltley or City Centre offices

We urgently need volunteers to staff our new advice centre in Saltley based at the former Birmingham City Council customer service centre in Highfield Road.
This is an exciting new project for us, as we are working in partnership with the council and other local advice partners.

If you're local to Saltley, or would be be happy to travel to the area to join our small and friendly team, we would particularly love to here from you.
No experience or prior knowledge is needed, as we will provide full training and support.

Volunteer Application Form : Please click here